by Adrianne Lake
Thoroughbred Breed Description:
The Thoroughbred horse is a supreme athlete and looks the part. Thoroughbreds are tall, leggy, long horses that come in any colour although solids are most prominent. They often have white markings, prominent withers and handsome heads on an elegant arched neck. Thoroughbreds usually stand around 16 HH and weigh about 1,100 pounds. They are full of raw power with their muscular quarters, slopings shoulders and clean legs.
Thoroughbreds are known for their courage and spirit on the racetrack, over fences, and in other disciplines requiring athletic ability. Often Thoroughbreds are crossed with other breeds such as Warmbloods or draft horses to produce a quality sport horse. They are hot-blooded animals and are well known for their spunk and attitude yet with proper care and handling they can become quite reliable. Big Thoroughbreds are desired for racing, jumping, dressage, and eventing while smaller Thoroughbreds make wonderful polo ponies.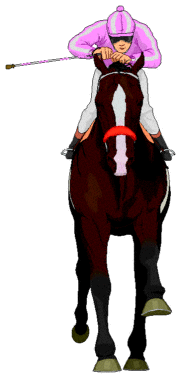 The modern Thoroughbred is the fastest horse in the world and is generally bred for racing as this popular sport is a globe-wide multi-billion dollar industry. Thoroughbred racing is most prominent in the United States and therefore the U.S. is greatly populated with these horses. They have been clocked at about 40 miles per hour (64 km/h) on a mile long (1.6 km) track. Thoroughbred horses must be bred live cover (no artificial insemination to ensure the foals are legitimate) to be registered in the Jockey Club Registry. To simplify matters of age in racing, foals in the Northern hemisphere are classified as "yearlings" on January 1 and foals in the Southern hemisphere become "yearlings" August 1 regardless of their date of birth.
Due to the desire to increase speed by selective breeding it is possible that many Thoroughbreds have more muscle mass but decreased bone density. This causes a horse to be faster but also more fragile. More Thoroughbreds become seriously injured (ie broken leg) while racing than any other animal or human in almost any other sport. Over 60% of these injuries result in euthanasia. Yet do not let this deter you from enjoying the Thoroughbreds supreme athletic ability. They are quite capable of handling a lot of physical exertion.
Thoroughbred Horses Breed History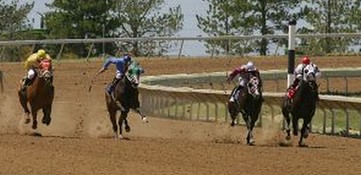 Three founding imported Arabian sires have shaped the Thoroughbred as we know it today. In the early 17th Century the Byerly Turk, Darley Arabian and Godolphin Arabian were bred to quality English mares to produce horses of great speed and endurance. "Herod", "Eclipse", and "Matchem" were offspring of these breedings and had a huge influence over the Throughbred as a breed. It is said that horse racing began in Ancient Greece but it became an official sport in the 1700s. The first horse of Thoroughbred influence was imported into the United States in 1730. His name was "Bulle Rock". The second was "Post", a daughter of the Godolphin Arabian, who arrived in 1733. Although the term "Thoroughbred" was not used untill 1821 the General Stud book opened in 1793.
In the 18th Century less Arabian blood was infused into the established Thoroughbred horses. Maryland and Virginia were the first States to breed Thoroughbreds. Due to selective breeding of only the fastest quality horses the Arabian is currently no match to the Thoroughbred's raw speed and power despite the fact they shaped the breed. The Thoroughbred has been used to improve many other breeds worldwide.