Description and Characteristics of the Arabian Horse:
The Arabian (or Arab) is a horse of exceptional beauty, elegance, grace, intelligence, balance, agility, speed and stamina. This magnificient horse breed has been the inspiration for legends, artists, fantasies and the dreams of little girls everywhere. Many historians have been associated with the beautiful Arabian horse including Alexander the Great.
Arabians have also inspired books and movies — notably, Walter Farley's popular series based on the adventures of a black Arabian stallion. Arabians have also been associated with some religions (especially Islamic).
Arabians are the oldest known riding horse in history and are credited with having developed and influenced many different breeds worldwide. Archeologists have discovered cave paintings that closely resemble the distinct Arabian horse. In fact, the Arab is recognized as being the foundation breed for all light horses and its bloodlines have influenced the Thoroughbred, Trakehner, Quarter Horse, American Saddlebred, Percheron, Welsh Pony and more. Morabs, Anglo-Arabs, Quarabs, and Welaras are all registered Arab-cross breeds.
Black Stallion Books
by Walter Farley
Black Stallion Adventure Set
Son of the Black Stallion
The Black Stallion's Filly
The Black Stallion's Blood Bay Colt
The Black Stallion Legend (Black Stallion)
Black Stallion DVD Movies
The Black Stallion Returns
The Black Stallion/The Black Stallion Returns – 2 movie gift pack
Arabian Horse Colors and Appearance
Arabians come in chestnut, bay, roan, grey and occasionally black. Regardless of colour though, all Arabs have black skin to protect them from the scorching desert rays. 14hh — 15hh is the Arabs usual height although some stables in Europe are trying to breed for a taller horse.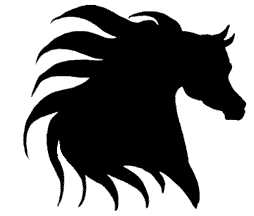 The Arab is easy to recognize with its high head carriage, small dished face, arched neck and highly set flagged tail. They have large eyes and nostrils on a small muzzle with silky manes and tails. Arabs are extremely hardy creatures because they had to survive the harsh life in the desert. These horses are very versatile and can do almost anything yet they are most recognized for their amazing stamina in endurance riding.
Arabians are hot-blooded horses and some people think they are hard to deal with. Despite some common beliefs, Arabs can develop a deep bond with their owners and seem to put heart into pleasing them as long as they are fairly treated and understood. Don't forget that for many years these horses depended on their owners for survival and have been domesticated longer than any other breed. With proper training Arabians can be very affectionate and become great horses.
Origin and Distribution of Arabian Horses
It has been suggested that the Arabian originated on the Arabian peninsula at about 5000 B.C. Originally the Arabian was bred and kept to be war horses in the Middle East. The horse quickly became invaluable to the tribes in the desert and even became a part of the Islamic faith. The Arabs took a lot of pride in their horses and the breed was kept pure because horses that were flawed in any way were not allowed to mate. Another factor in the purity of the breed was the Arabs and their Arabian horses lived in isolation and no foreign blood was available.
Distribution of the Arabian horse occurred through trade and export. It is thought that at some point people from the West travelled to the East in search of a better mount after the Crusades and discovered the fast Arabian desert horse. The Thoroughbred was founded by three famous Arab sires including the Byerly Turk, Darley, and Godolphin Arabian. This amazing breed has not changed much since it was first discovered.